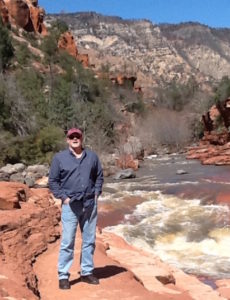 Owner | Bill W. Benson, DVM
A small-town boy, Dr. Benson was born and raised in Hampton, Arkansas.  After graduating from the University of Arkansas with a bachelor of science in biology, he decided to pursue his life-long interest in veterinary medicine at Tuskegee University. Seduced by what he thought was a mild winter climate, Dr. Benson moved to Maryland in January of 1984.  He now resides close by in Pennsylvania, where he raises thoroughbred racehorses.
He is a committed veterinarian and surgeon at his practice, Advanced Veterinary Complex in Reisterstown.  Dr. Benson took over ownership of Lucky Stars Country Kennel in 2015.  He is an avid Baltimore Ravens and Orioles fan, and can often be found at M&T Bank Stadium or Camden Yards, rooting for the home team.
Kennel Director | Jeannie Barnes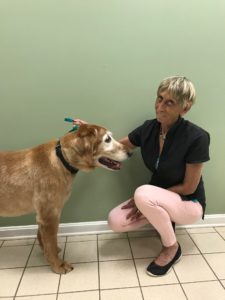 Groomer | Bardie Bailey
Bardie grew up in Monkton on a horse farm with parents Peggy and Linky Smith (very well known horsemen).  She grew up riding and maintaining hunters and jumpers and later managed a thoroughbred breeding operation.  Bardie met her husband of 34 years, Doug, and after a long career with horses began her grooming career with dogs.  She has two children, Christopher and Lauren, and a beautiful granddaughter, Alyssa.  Currently owned by her dog, Winnie, she is a dog-lover through and through.  Bardie has over 12 years experience grooming and has built a long list of loyal clientele as well as welcomes newcomers.  Joining our team in 2011, she performs her magic daily on our guests by treating them to a day at the spa.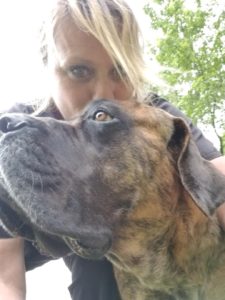 Trainer and Daycare Mom | Leila Schneider
Leila has dedicated her adult life to enhancing the well-being of animals.  With over 30 years of experience, she has learned each dog has something to teach us.  Her mottos are "Ask, Tell, Insist" and "Reward the Slightest Try".  Leila uses only positive teaching methods for her obedience training.  She offers beginner through advanced courses as well as individual classes for those who need specialized attention.  During the weekdays, Leila is our Doggy Daycare Mom as well in-house trainer.  The dogs ADORE her!  Having a intuition of dog personality traits, she knows just which playgroup will allow your dog to shine.  Don't you want your dog to become a "Lucky Star"?!
Leila resides in New Freedom with her chihuahua, Minnie, and her cat, Gracie.  She joined the Lucky Stars team in 2015 as Obedience Trainer and Doggy Daycare Mom.  When not working at Lucky Stars, you will often find her riding and training horses, drawing, or gardening.
Office Manager/Receptionist | Gerry
Receptionist: Chrissie
Kennel Technician: Tory
Kennel Technician: Madison
Kennel Technician: Abigail
Kennel Technician: Logan
Kennel Technician: Ethan
Kennel Technician: Cierra
Kennel Assistant | Delton