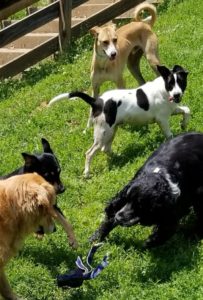 By bringing your dog to doggie daycare you will:
Improve your dog's socialization skills
Improve your dog's basic obedience commands
Provide a full day of fun and healthy exercise
Be ready for a good night's sleep
Eliminate boredom and loneliness
Reduce or eliminate destructive behavior to your home and property
Know that your dog is having a great time!
Daycare Schedule
Daycare is currently offered Monday–Friday (excluding all major holidays). Fee for daycare is $25 per day. You can call and drop-off your dogs at anytime during our business hours. Daycare is directed by our certified dog trainer, Leila Schneider who also offers in-daycare training for extra $30. Call for more information.